You are here:
News
Workers at risk of losing income to manage caring responsibilities – and women bearing heaviest burden
Parents and people with caring responsibilities need better support to help them to stay in work, according to research released today by Coram Family and Childcare and UNISON.
Based on interviews and public polling, Holding on or moving up? Supporting carers and parents in employment finds wide public support for action from employers and government.
Key findings from the polling include:
65 per cent of British adults said that the government should do more to help carers and parents balance work and care and 65 per cent said employers should do more
Women are more likely than men to reduce earnings in order to balance work and care:
Nearly half of British women (48 per cent) think they would have to reduce their working hours in order to meet their caring responsibilities, compared to just under a third of men (32 per cent), if working full time and/ or a parent
20 per cent of women think that they would have to leave their job if they were a carer, compared with 12 per cent of men if working full time and/ or a parent
There are solutions that can help people get the right balance: 82 per cent of respondents said that if they were a parent to someone under 18 or carer and working full time, having more control over their hours would help them to balance work and care
There are around 9 million working parents and 2 million working carers in England – representing a third of the workforce (1).
Making adjustments to support staff improves employees' wellbeing and helps employers to retain staff skills – but too many employees find that inflexible employers are making it impossible for them to balance their responsibilities, causing them to reduce their hours or leave work altogether.
In order to better support parents and carers, Coram Family and Childcare are calling for:
Employers to adopt best practice around supporting employees with caring responsibilities
Government to introduce up to 10 days per year of paid carer's leave
Government to introduce the right to up to a year of unpaid leave from your job for carers
Government to support employers to adopt best practice by providing free resources and training
Government to prioritise understanding and addressing the issues carers and parents face in retaining, entering and progressing in work
Ellen Broomé, from Coram Family and Childcare said:
Dave Prentis, UNISON general secretary said:
- ENDS -
Contact: Megan Jarvie, Head of Policy. Telephone: 020 7239 7536, mobile: 07538 334 772, email: megan.jarvie@familyandchildcaretrust.org.
Notes to Editor:
ONS, 2017a, ONS, 2017b and Carers UK, 2015.
Coram Family and Childcare conducted interviews and focus groups with 40 people with caring responsibilities (including parents) in June and July 2018.
Polling was carried out by YouGov on 9 – 10 August 2018. All figures, unless otherwise stated, are from YouGov Plc.  Total sample size was 2057 adults. Fieldwork was undertaken between 9th - 10th August 2018.  The survey was carried out online. The figures have been weighted and are representative of all GB adults (aged 18+). Further results from polling:
For the following question, by 'parents', we mean parents of children under 18. By 'carers', we mean someone who helps look after a family member/ friend who needs care and support as a result of old age, physical illness, disability, mental health problems, or addiction.
Do you think employers / Government should or should not do more to help parents / carers to balance work and care?


Please imagine that you are a parent of a child under 18 and/ or carer for someone and that you were working full-time. If you are currently a parent and/ or carer working full-time, please think about your current situation. In general, how helpful, if at all, do you think each of the following would be to help you to balance work and care?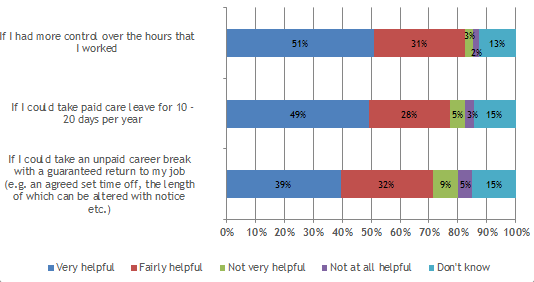 Please imagine that you are a parent of a child under 18 and/ or carer for someone and working full-time. If you are currently a parent and/ or carer and working full-time, please think about your current situation. Which, if any, of the following do you think that you would have to do in order to meet all of your caring responsibilities? (Please select all that apply)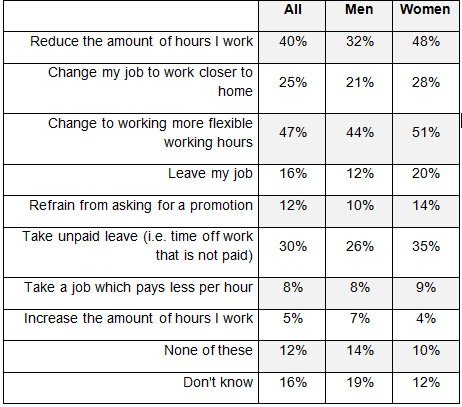 About Coram Family and Childcare
Coram Family and Childcare works to make the UK a better place for families by bringing together what we learn from our on the ground parent-led programmes and our research to campaign for solutions that parents want and need. We focus on childcare and early years to make a difference to families' lives now and in the long term. Before 1 August 2018, the charity was known as the Family and Childcare Trust.
About UNISON
With more than 1.3 million members, UNISON is one of the UK's largest trade unions and Europe's largest public service union. UNISON members work in the public services, for private contractors providing public services and for utility companies.