You are here: Ask a Dad workshop
breadcrumb navigation:
Home

/

Ask a Dad workshop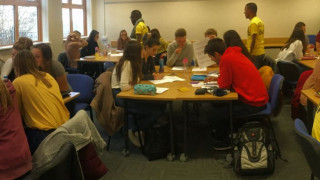 The Ask a Dad workshop is a unique dad engagement MOT designed and delivered by the YDC's young dads. Sharing their personal experiences with you, the YDC's young dads will help you reflect on the ways in which you engage with young dads and spot opportunities to tune up and improve your practices.
Aim
To facilitate reflection and provide simple tools for you and your colleagues to better include young dads in everyday working practices, without adding to the workloads of busy professionals.
Outcomes
There is strong evidence that father involvement is positive for mums, children and dads. By the end of the session you will:

What people have said about YDC workshops
"I found the Collective's contribution extremely valuable and greatly appreciated the openness of the dads in helping us better understand issues for young dads and ideas of improving our work." 
"They really helped develop our policy and practice and engaging with our dads. From a couple of years ago when we had maybe about six dads referred over a year or so – it's now so much more."
"We had a day with 15 or 20 professionals to talk about dads. We had two young dads from the Young Dads Collective. The dads were really, really helpful in talking through what had worked for them, how somebody made contact with them, places they felt excluded, useful ways of getting to speak to them, what worked for them at a group."
Who is this workshop for?
This workshop is for anyone who designs, commissions or delivers services that could work with young dads, such as children's centres, health visiting, perinatal services and nurseries.
Format
The YDC's workshops go beyond the traditional 'read this PowerPoint, remember this acronym' format. We create a space for real dialogue, reflection and growth.
This highly interactive workshop begins with an open and constructive discussion led by our young dads about the obstacles between services and young dads and how to overcome them. Sharing their own personal experiences with services, the young dads will encourage you to see and re-examine your practices from a young dad's viewpoint. You will then work in small groups with a young dad to thoroughly evaluate your services and identify practical, easy to implement solutions to help you better reach and engage with young dads.
To discuss booking a workshop and get a quote, please fill out the form below. If you have any questions, please get in touch to megan.jarvie@coramfamilyandchildcare.org.uk or 020 7239 7536.
About the YDC
The Young Dads Collective (YDC) works to improve the lives of young dads and their children by tackling the social exclusion that locks out young dads' potential. As experts by experience, the YDC's young dads work with professionals to transform how organisations engage with young dads and overcome the hidden barriers that shut young dads out. The YDC directly employs and develops the skills of the collective's young dads.

Sign up to Coram Family and Childcare's newsletter
Get the latest news, research and resources from Coram Family and Childcare.