You are here:
News
Scottish families facing holiday childcare bill of over £700 – more than double the cost of term time childcare
New figures show that the average parents in Scotland now pay for one week of holiday childcare is £123 – more than double the price they pay for after-school clubs during term time.
Published today, Coram Family and Childcare's 15th annual Holiday Childcare Survey, the country's most comprehensive survey of holiday childcare costs, reveals that working parents in Scotland will have to find £739 on average for six weeks of holiday childcare per child. This means families have to find an extra £414 to cover the summer holidays compared to term time childcare.
This can be a huge financial pressure for low income families who rely on Universal Credit to help with their childcare costs, as this support is paid in arrears meaning they have to find the money to cover these higher costs up front, pushing many into debt.
In addition to rising costs, parents may struggle to find the holiday childcare they need as over 70 per cent of local authorities did not know whether they have enough childcare for different age children and disabled children during the holidays.
Coram Family and Childcare is calling for urgent Government reform on school age childcare to address the acute shortages and improve existing support for families. 
Megan Jarvie, Head of Coram Family and Childcare, said: "Scottish families are being left with few options this summer. The high price and low availability of childcare means that many struggle to stay in work, or can end up paying to work. Families need to see urgent action to fill the gaps in availability and financial support." 
 
-ENDS-
For further information, images and interviews please contact: Emma Lamberton, Communications Manager at Coram at emma.lamberton@coram.org.uk / 0207 520 0427 / 07908 827908.
Notes to Editors
• The Holiday Childcare Survey is based on surveys sent to all Family Information Services at local authorities in April 2019 and Freedom of Information requests. 96% of local authorities responded. Full methodology can be found in the report.
• Coram Family and Childcare's annual Childcare Survey and Holiday Childcare Survey are the definitive reports on childcare costs and availability in the UK. 
• Full regional breakdown of costs and change since 2018 (weighted):

Proportion of local authorities in Scotland with enough childcare to meet demand: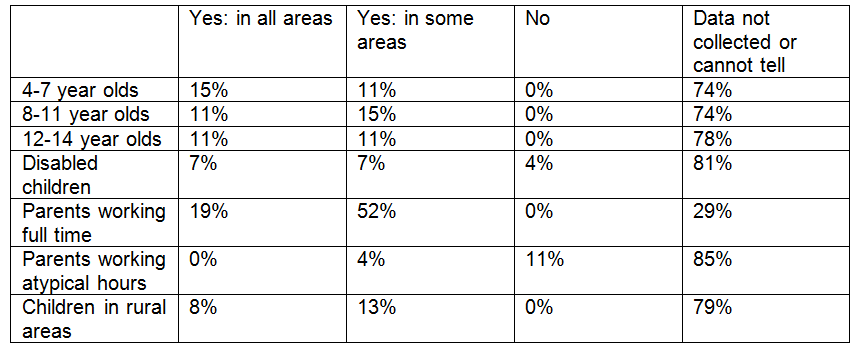 Information was gathered from 95 per cent of local authorities in Britain between April and June 2018 through surveys and Freedom of Information requests. Full methodology can be found in the report.
About Coram Family and Childcare
Coram Family and Childcare works to make the UK a better place for families by bringing together what we learn from our on the ground parent-led programmes and our research to campaign for solutions that parents want and need. We focus on childcare and early years to make a difference to families' lives now and in the long term. Before August 2018, we were known as the Family and Childcare Trust. For more information, please visit www.coramfamilyandchildcare.org/.
     
About Coram
Coram is the UK's oldest children's charity, supporting children to have the best possible chance in life since 1739. We support children and young people from their earliest days to independence, creating a change that lasts a lifetime. We help build their confidence; we help them to develop skills; we uphold their rights, we support practitioners in the areas of fostering and adoption and we find loving adoptive families for the most vulnerable children. For more information, please visit www.coram.org.uk.