You are here:
News
Plateauing holiday childcare costs remain high for working parents
Scottish parents now pay an average £124 for one week of holiday childcare after a drop of one per cent in holiday childcare costs brings some relief.
The Family and Childcare Trust's 16th annual Holiday Childcare Survey finds that the summer holiday comes with an average price tag of £744 for six weeks of holiday childcare per child. Costs in Scotland are on par with the British average, with Scottish parents paying just 20 pence more per week.
High costs in Scotland are only half the picture: many parents may struggle to find childcare. Scottish local authorities are not required to monitor the availability of childcare in their areas, meaning that seven in ten local authorities do not know if there is enough holiday childcare available this summer for all full time working parents. Less than one in ten reported that there was enough childcare in their area for working parents.
Ellen Broomé, Chief Executive at the Family and Childcare Trust said:
"This summer working parents are once again facing high holiday childcare costs. While parents will be relieved that costs are levelling off, costs remain high and many will again struggle to find and pay for childcare.
"Families need a Government strategy to make sure that every parent is better off working after they have paid for childcare, and that there is enough childcare for working parents."
-ENDS-
Contact: Mark Bou Mansour, Communications and Campaigns Manager. Telephone: 0207 940 7535, mobile: 07538 334 772, email: mailto:mark@familyandchildcaretrust.org.
Notes to Editor
In Scotland, the average price of one week of full time holiday childcare is now £124.43, compared with £124.62 in England and £117.62 in Wales. Full regional breakdown: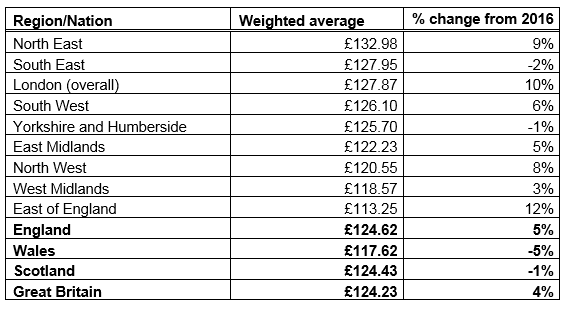 71 per cent of local authorities in Scotland do not know if there is enough holiday childcare available in their areas for all parents working full time. Full regional breakdown of childcare sufficiency in Britain available in the report.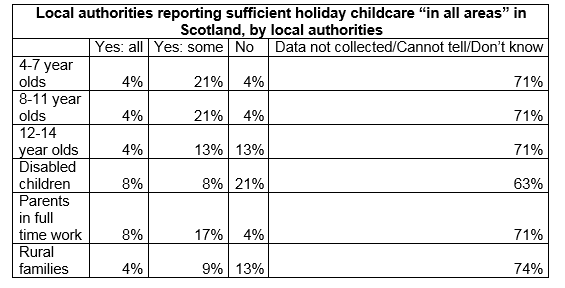 About the Family and Childcare Trust
The Family and Childcare Trust aims to make the UK a better place for families. We are a leading national family charity in the field of policy, research and advocacy on childcare and family issues, with over 40 years' experience. Our on-the-ground work with parents and providers informs our research and campaigns. We focus on the early years and childcare because they are crucial to boosting children's outcomes throughout life and supporting parents to work.