You are here: Parent Champions for Community Connections
breadcrumb navigation:
Home

/

Parent Champions for Community Connections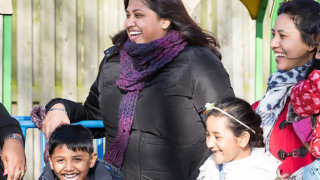 Parent Champions for Community Connections
How does it work?
Parent Champions are parent volunteers who give a few hours a week to talk to other parents about childcare and other local services available to families. 
Recent research shows that more than half of UK parents have experienced loneliness, and it is most acute for those with the youngest children. Parent Champions can help parents to break down barriers to connecting with their community and reduce isolation. Using free early education and family services can help parents feel happier and more connected, as they meet other families in a supportive environment, while improving outcomes for their children. 
Parent Champions for Community Connections, funded by the National Lottery Community Fund, focusses on reducing isolation and loneliness among parents of children under 5. Through focus groups with parents we will explore why parents sometimes feel lonely, what has helped, and what else could have made a difference to overcoming practical and emotional barriers to connecting with people. We will then work with local partners to set up local schemes, using this learning, to make a real difference for local families.
Why Parent Champions?
Parents are often more likely to trust other parents like them. Parent Champions share their own positive experience of local services in a relatable, trusted and informal way. They often meet with local parents at schools, children's centres, doctor surgeries and libraries. With Parent Champions building community groups and creating activities to support parents who feel isolated and alone, more parents can benefit from strong community connections. By helping families to make use of the services that are on offer, Parent Champions are helping parents to connect with each other, tackling isolation and building relationships in their local community so that more parents benefit from strong community connections.

Let's talk about starting your scheme