You are here:
News
Over four million older people face local care shortages
Just one in four local areas in the UK report having enough older people's care, new research from the Family and Childcare Trust reveals. 38 per cent of local areas say this situation will worsen next year.
The Family and Childcare Trust's second annual Older People's Care Survey – funded by Legal & General – finds that over 4.2 million people aged 75 and over in the UK live in areas that do not have enough care to meet demand.
The most severe shortages continue to be felt by the most vulnerable older people. While 81 per cent of respondents in the UK said they had enough availability for care home places, that figure falls to 46 per cent for home care and 37 per cent for nursing homes with specialist dementia support.
The survey also found that local authorities pay an average of £556 per week per person, or almost £29,000 per year, for residential care. Wide regional variances, however, mean that local authorities in inner London pay an average price of £663 for a week of residential care, which is 34 per cent more expensive than the average price of £494 paid in the North West. Specialist nursing care prices have also soared by 12 per cent since last year, now costing local authorities an average of £624 per week per person.
Families who are paying for their own care may struggle to find the information they need as nearly three in four local authorities were not able to provide data on the rates that self-funders pay for care in their area. Where data is available, older people funding their own care pay on average 14 per cent more for residential care than local authorities do. Self-funders in the UK will use up savings taken from the value of their home in just over six years on residential care fees – that drops to just three years and two months for self-funders in the North East.  
Ellen Broomé, Chief Executive at the Family and Childcare Trust, said:
Chris Knight, Managing Director of Legal & General's Retail Retirement Division, said:
Contact: Mark Bou Mansour, Communications and Campaigns Manager, Family and Childcare Trust, telephone: 020 7940 7535, mobile: 07538 334 772, mark@familyandchildcaretrust.org.
Notes to Editor:
Table 1: ​​Prices funding authorities pay for older people's social care (lowest prices highlighted in green, highest in red).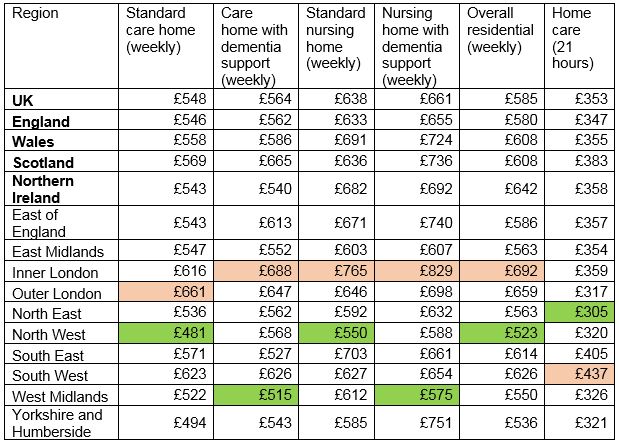 Table 2: Proportion of local authorities with enough provision to meet demand for all types of care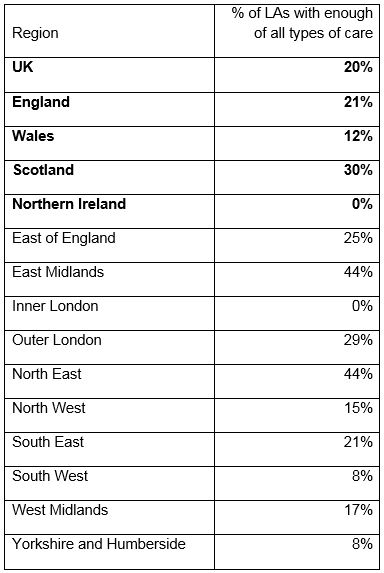 More local authorities reported data gaps this year than last year: 20 per cent said they did not have enough data to determine whether there was enough care in their area compared to 16 per cent last year.
Self-funders in Northern Ireland and the North East of England will use up savings taken from the value of their home in the shortest time (in both areas, three years and two months for average residential care fees), because they have the lowest average property prices.
In contrast, self-funders in London will take the longest to spend the value of their property (13 years and 11 months for average residential care fees).
Deferred payment agreements (DPAs), which prevent older people from having to sell their home to go into care, are distributed unevenly across English local authorities. While the average local authority in the West Midlands has 67 DPAs in place, the average local authority in London has only 16.
One in seven older people (15 per cent) receiving authority-funded care use third party top ups. These are typically made by family members to help older people access higher quality care or a place closer to home. In Northern Ireland 32 per cent of older people use third party contributions, compared with only 4 per cent of older people in Scotland.
A panel discussion on the Older People's Care Survey 2017 will be held on Tuesday 21 November 2017.
Methodology
The Family and Childcare Trust submitted surveys as Freedom of Information (FOI) requests to all 206 local authorities in England, Scotland and Wales, and five Health and Social Care Trusts in Northern Ireland. 185 responses were received out of 211, giving an overall response rate of 88 per cent, and a minimum response rate of 77 per cent in all regions and nations of the UK.
The survey asked about the average fees paid for authority-funded and self-funded places for various types of care, the numbers of older people in receipt of those services, and whether there was enough provision of care to meet the demands of older people.
About the Family and Childcare Trust
The Family and Childcare Trust aims to make the UK a better place for families. We are a leading national family charity in the field of policy, research and advocacy on childcare and family issues, with over 40 years' experience. Our on-the-ground work with parents and providers informs our research and campaigns. We focus on the early years and childcare because they are crucial to boosting children's outcomes throughout life and supporting parents to work.
About Legal and General Group
Established in 1836, Legal & General is one of the UK's leading financial services groups and a major global investor, with a number of growing businesses in the US and in other countries. At 30th June 2017, we had over £951 billion in total assets under management. Over fifteen million people worldwide rely on us to help them save for the future and to protect their families and their homes.
We work with companies and pension trustees to help people build security in retirement, being the UK's largest investment manager for UK corporate pension schemes, a major provider of auto-enrolled pensions and a market leader in pensions de-risking. We have also made a commitment to invest around £15 billion in direct investments, with £12 billion already invested in areas such as homes, urban regeneration, clean energy and small business finance, driving economic growth and making a positive difference to the UK's built environment.