You are here:
News
New childcare investment helping families - but high earning couples gain the most
New evidence will be presented to Parliament today showing that single parents, and families on low incomes, gain the least under new childcare measures.
Ahead of the meeting of the All Party Parliamentary Group on Families in the Early Years discussing Tax Free Childcare and the doubling of free childcare for three and four year olds with working parents to 30 hours, the Family and Childcare Trust have looked at how these new childcare policies change families' incomes after they pay for housing and childcare.
Many families are better off as a result of the introduction of Tax Free Childcare and 30 hours policies - but this new support is not targeted at those who need it most:
Couples gain more than single parents.
Middle and higher earners gain more than low income earners.
A single parent working full time on minimum wage will be £55 per month better off as a result of these policies – but this is dwarfed by the £351 per month a higher earning couple will gain
Lower income households gain the least from the new support because they already get support through the benefits system. But the amount of support available has not changed in over a decade, so that it no longer covers the cost of full time childcare for the youngest children in most areas, meaning parents would have to make up the £3,000 shortfall every year to go to work.
Some single parents do not gain from working more hours – meaning they are often trapped in part time roles. Last month, Government confirmed that they had no plans to review this childcare support through the benefits system. This means parents risk being worse off working more hours once they have paid for childcare. (4)
As well as looking at the winners and losers under the new childcare schemes, which only go to working families rather than supporting poorer families with parents out of work, the meeting will hear from Treasury Select Committee Chair Nicky Morgan about the findings from her committee's inquiry into the roll-out of tax free childcare and the wider childcare system. The inquiry raised concerns about childcare support for parents in training, funding for 30 hours and the management of Tax Free Childcare replacing childcare vouchers.
Ellen Broomé, Chief Executive at the Family and Childcare Trust, said:
Lucy Powell MP, Chair of the APPG for Families in the Early Years said:
Contact:  0207 940 7535, mobile: 07538 334 772, email: press@familyandchildcaretrust.org.
Notes to Editor:
Monthly income after childcare and housing costs for a family with a three year old child, with different working hours and earnings.
Working three days a week: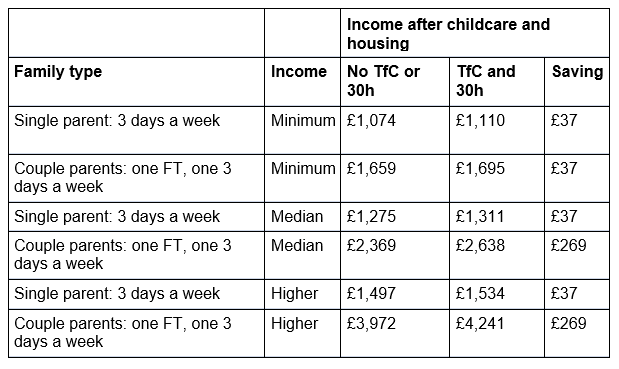 Working five days a week (full time)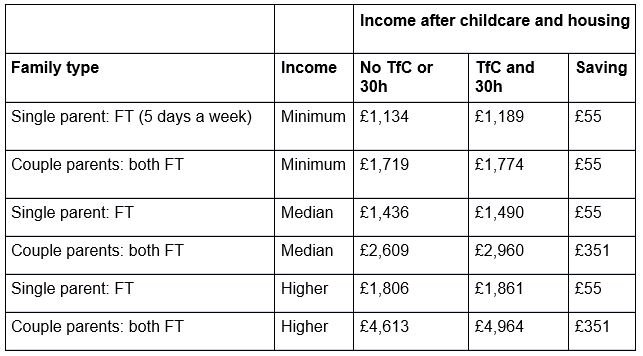 ​2. We have assumed that families are paying average childcare costs for England and £573 per month in rent. We have based calculations on parents working a 7 hour day, and requiring 10 hours of childcare per day to allow for travel to work and lunch break. We have compared family incomes after childcare costs when accessing 30 hours and Tax Free Childcare to incomes when using only the 15 hour universal free entitlement and not using Tax Free Childcare or Employer Supported Childcare (Childcare Vouchers). We have assumed that parents will use their 30 hour or 15 hour entitlement as a 'stretched offer', so rather than getting 30 hours a week 38 weeks a year they get 23.75 hours a week 48 weeks a year (allowing for four weeks annual leave). We have assumed that parents on benefits are using Universal Credit rather than Tax Credits. Minimum income is £7.83 per hour (National Minimum Wage for over 25s from 1 April 2018); median income is £15.71 per hour (ONS data on median earnings); and higher income is £25.46 per hour (threshold for paying higher rate income tax based on working a 35 hour week)
3. PQ 131077 confirmed that "DWP has no plans to change the current limit on childcare costs covered by Universal Credit." http://www.parliament.uk/business/publications/written-questions-answers-statements/written-question/Commons/2018-03-05/131077
4. Universal Credit and Tax Credits will support childcare costs of up to £175 per week for one child or £300 per week for two or more children. The average cost of a full time nursery place for a child under two in England is £236 per week - £61 more than the support available.
5. The APPG for Families in the Early Years will be meeting on Monday 23 April 3 – 4.30pm to discuss Tax Free Childcare and 30 hours childcare for three and four year olds. The speakers are: Nicky Morgan MP, Ellen Broomé, CEO of the Family and Childcare Trust, Neil Leitch, CEO of the Pre-School Learning Alliance, and Valentine Mulholland, Head of Policy at NAHT.
About the Family and Childcare Trust
The Family and Childcare Trust works to make the UK a better place for families by bringing together what we learn from our on the ground parent-led programmes and our research to campaign for solutions that parents want and need. We focus on childcare and early years to make a difference to families' lives now and in the long term.
www.familyandchildcaretrust.org