You are here:
News
Four in five older people at risk of struggle to find social care
Just one in five local areas in the UK report having enough older people's care to meet demand, new research from Coram Family and Childcare reveals, leaving over 4.3 million people aged 75 or over living in areas without enough care.
Coram Family and Childcare's third annual Older People's Care Survey – sponsored by Legal & General – found significant regional variation: no local authorities in Inner London or Northern Ireland reported having enough care to meet demand in their area, while almost half (44 per cent) did in the East Midlands and the North East. 34 per cent of local authorities expect the situation to get worse in the next year, compared with only 1 per cent who expect it to get better.
Older people who need care at home will struggle to find it, with only half of local authorities (51 per cent) reporting enough in their area. Those with more severe care needs, such as dementia, face even tougher odds of finding suitable care, with just 42 per cent of areas having enough specialist nursing care to meet local demand.
People who pay for their own care are likely to struggle with high costs and information black spots:
Older people paying for their own care face prices which are 13 per cent higher than those paid by local authorities for residential care
Even if they only pay the same price as local authorities, at nearly £17 an hour, it will take just one year and one month for self-funders using 21 hours of support a week to spend £20,000 of savings on average UK home care fees
Only one in six (16 per cent) local authorities knew about the prices that self-funders pay
One in five (19 per cent) did not have enough information to say whether there was enough social care in their area to meet demand
Megan Jarvie, Head of Coram Family and Childcare, said:
Chris Knight, Managing Director of Legal & General's Retail Retirement Division, said:
Contact: Megan Jarvie, Head of Coram Family and Childcare, telephone: 020 7239 7536, mobile: 07966 036 378, megan.jarvie@familyandchildcaretrust.org
Notes to Editor:
Table 1: Prices local authorities pay for older people's social care (lowest prices highlighted in green, highest in red).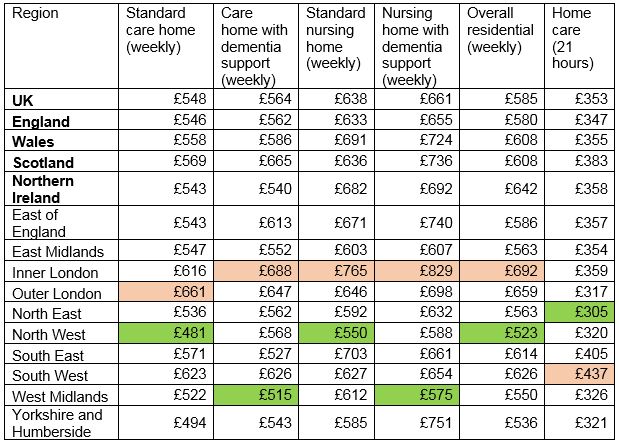 Table 2: Proportion of local authorities with enough provision to meet demand for all types of care, by region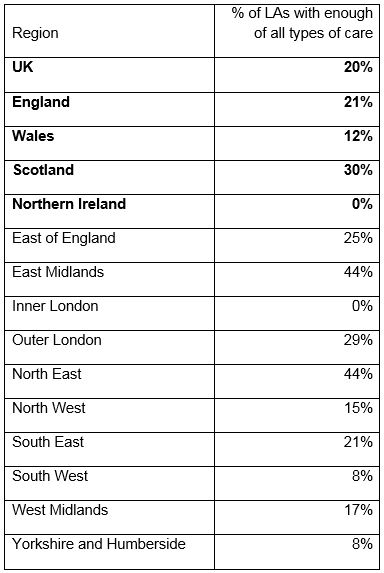 Deferred payment agreements (DPAs), which aim to prevent older people from having to sell their home immediately in order to pay for care, are distributed unevenly across English local authorities. In the North East, there are twice as many DPAs per older person as the average across England, while in London there only half as many (NHS Digital, 2018).
One in eight older people (12 per cent) receiving authority-funded care use third party top ups – typically made by family members to help older people access higher quality care. In Northern Ireland 45 per cent of older people use third party contributions, compared with only 2 per cent of older people in Scotland.
Methodology
Coram Family and Childcare submitted surveys as Freedom of Information (FOI) requests to all 206 local authorities in England, Scotland and Wales, and five Health and Social Care Trusts in Northern Ireland. 166 responses were received out of 211, giving an overall response rate of 79 per cent, and a minimum response rate of 69 per cent in all regions and nations of the UK.
The survey asked about the average fees paid for authority-funded and self-funded places for various types of care, the numbers of older people in receipt of those services, and whether there was enough provision of care to meet the demands of older people.
Please see report for full methodology.
About Coram Family and Childcare
Coram Family and Childcare works to make the UK a better place for families by bringing together what we learn from our on the ground parent-led programmes and our research to campaign for solutions that parents want and need. We focus on childcare and early years to make a difference to families' lives now and in the long term. Before August 2018, we were known as the Family and Childcare Trust.
About Legal and General Group
The Legal & General Group, established in 1836, is one of the UK's leading financial services companies.  As at 31 December 2017, we had over 9.5 million customers in the UK for our life assurance, pensions, investments and general insurance plans.
Legal & General Assurance Society Limited.
Registered in England and Wales No. 00166055.
Registered office: One Coleman Street, London EC2R 5AA.
Authorised by the Prudential Regulation Authority and regulated by the Financial Conduct Authority and Prudential Regulation Authority.